automated pipe organ module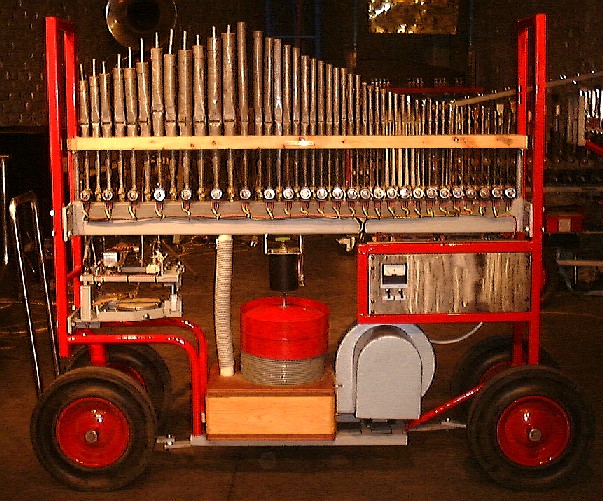 <Piperola>
dr.Godfried-Willem RAES
Marc MAES
Moniek DARGE
Johannes TAELMAN
Ghislain & Dierik POTVLIEGHE

1998-2007
<Piperola>
<'Piperola> became the second organ module of our large scale automated barrelorgan project, later to become the Logos robot orchestra. The first working version was finished in july 1998, and made its first official public appearance in my street opera production 'Rednick'. On saturday 20th of june, however, the module played its first -then out of tune- scale...
This module uses 2"-flute register pipes, recycled from the same old (end 18th century) organ from which we also recycled the 'Vox Humana' pipes used for the <Vox Humanola> module. The original register was labeled 'Octavin'.
The register consists of 49 metal flue-pipes in the range 60 to 108 (midi-notes as reference). The notes 60 to 71 use semi-stopped lead-pipes (modified waldfloete), in order to save in size, whereas the notes 72 to 108 use open flue pipes. The pipes stand freely on the valves, held in place by a thick wooden pipeholder. The module is fully polyphonic.
For maintenance, the open pipes could originally be tuned with a small slit in the upper end of the pipes, whereas the stopped pipes had a slidable cap covering their end. Instead of the usual paper, teflon was used to make the slides airtight. Teflon came out to be a by far superior material in these applications than the more traditional stuff, blue paper. In 2007 we changed and improved the pipework of <piperola> and used closed pipes for the lower octave. These no longer have slidable endcaps and can only be fine-tuned with the beards. The slots in the high pipes where abandoned as well, so now tuning -if ever required- should be performed with tuning cones.
The wind is provided by a Laukhuff 'Ventus'-type radial compressor working on a variable (under computer control) 95mm WK windpressure. The windchest is a welded steel construction and uses modified industrial M&M solenoid valves with orifices of 4 mm diameter. The achors have been shortened a bit (1 mm) and at their bottom end covered with felt. Furthermore, the tension of the return spring was halved by cutting off 3 turns of the helical spring and stretching it again after this operation. For the notes 60 to 71 we drilled out the valves to a diameter of 5 mm, since the stopped pipes needed more wind. In 2003 we added the 3-phase pulse width modulation control circuit for the compressor, as well as a heavy duty solenoid pushing the bellows, making a wide variety of dynamic variations and articulation possible on this automat. (see technical notes at the very end of this page and the references to the history of the construction of this automat). In 2005 we further improved the wind control by using two dedicated microprocessors (PIC controllers) and a frequency converter for the motor. Thus the instrument, since 2005, no longer requires 3-phase current for operation.
As a little extra feature, we added a mechanical drum-playing machine ('Turkish Music'), mapped to the highest midi notes 120-127, as well as the vibrato and expression mechanism. In 2005 some small lights have been added as well (mapped on notes 118, 119).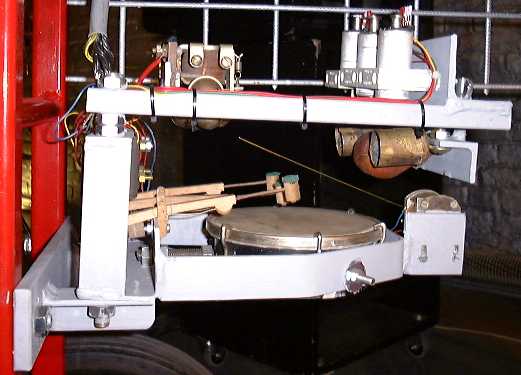 The entire piperola module is mounted on four large wheels and thus is very transportable. To prevent people from touching the pipes and eventually detuning them, we covered the entire windchest with pipes with a welded metal cage. Not the utmost beauty, but highly effective... A nicer looking cage is on our to do list.
Design & construction: Dr.Godfried-Willem Raes
assistents: Moniek Darge (requisites, valve silencing)
advisers: dr.Jan Kruger(+), Ghislain Potvlieghe
Pipe restauration, intonation & tuning: Marc Maes, Dierik Potvlieghe.
PIC-controllers for the 2005 version: Johannes Taelman.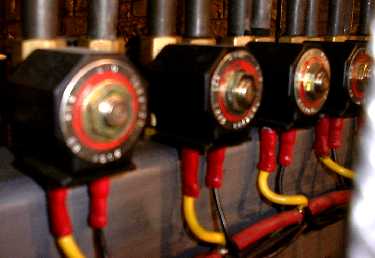 In 2005 we modified and improved the circuitry of <Piperola> completely. The new circuits now look like this: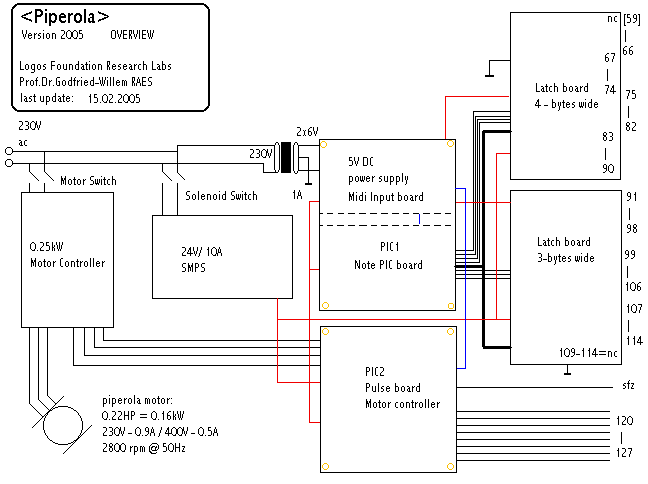 Detailed drawings for the PIC controller boards :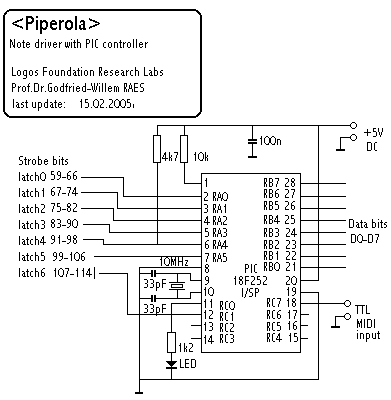 And this became the motor control PIC board, that at the same time takes care of the small percussion set in <Piperola>: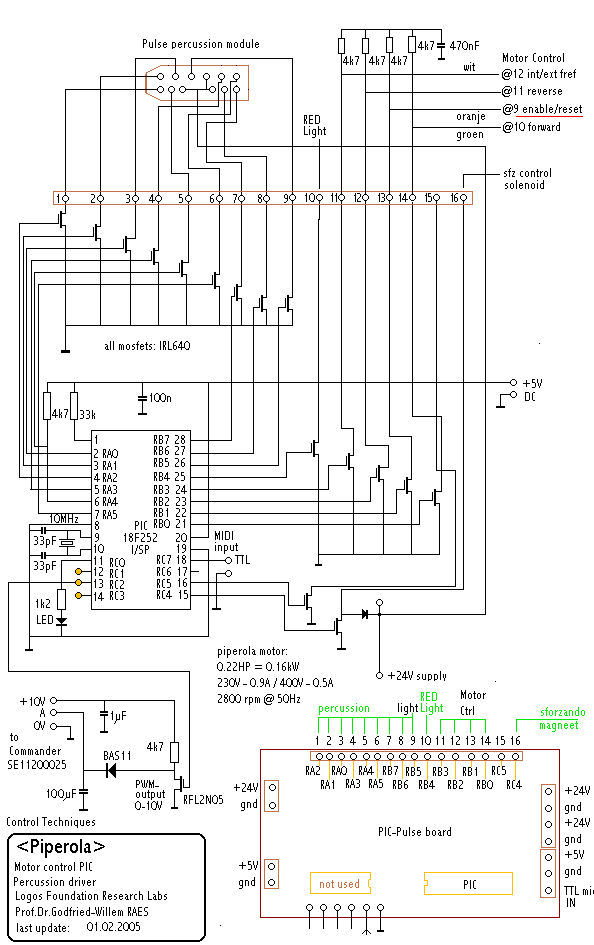 A complete midi implementation table can be found at the end of this page. A quick musical overview is: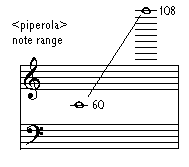 Technical Specifications and sizes:
depth: 530mm
width: 1680mm
height: 1400mm
weight: 120kg
power: 230V ac - 250W
data input: midi port
---
<Piperola>
Dit register loopt van midi noot 60 tot en met 108. De opbouw maakt gebruik van ventielen met een doorlaat van 4 mm gemonteerd op een enkele stalen windlade. Omwille van de kompaktheid werden de ventielen om en om gemonteerd, zoals blijkt uit de technische tekening hiernaast. De afstand tussen de aslijnen van beide rijen boorgaten is 8 mm, zodat de bronzen behuizingen van de ventielen in elkaar kunnen haken. De minimale afstand tussen de aslijnen van de ventielen onderling is 20 mm. Uiteraard, wordt deze maat groter wanneer de diameter van de in te zetten pijpen groter wordt dan deze minimale maat. (Zie tabel). De gebruikte ventielen zijn van het type M&M C249DBL, omgebouwd zoals uitvoering beschreven bij de <Vox Humanola> module. We gebruikten voor de noten 71 tot 108 pijpen uit een register genaamd 'Octavin 2'. De lagere (noten 60 tot 71) werden ontnomen aan het Waldfloete register (roerpijp), maar gemodificeerd door de pijpen volledig te dekken. Door deze ingreep kon ook de bouwhoogte worden beperkt. De oorspronkelijke smalle buisjes op het deksel van de pijpen werden verwijderd en de potdeksels dichtgemaakt. De afdichting tussen pijp en afsluitdeksel -traditioneel steeds uitgevoerd met een speciaal soort blauw papier- voerden we aanvakelijk uit in het moderne en heel wat duurzamer materiaal Teflon (PTFE). Dit kwam alvast de stemvastheid van deze pijpen ook aanzienlijk ten goede. In 2007 onderging het pijpwerk van Piperola een grondige restauratie en bij die gelegenheid soldeerden we de pijpen van het onderste oktaaf geheel dicht. Het bijstemmen moet nu middels de baarden gebeuren. Voor die laagste pijpen bleek het nodig de ventielen iets uit te boren. 5mm leek nog net haalbaar. Om turbulenties op te vangen in de pijpvoet, werd de uitlaat van deze ventielen bovendien ook konisch uitgeboord.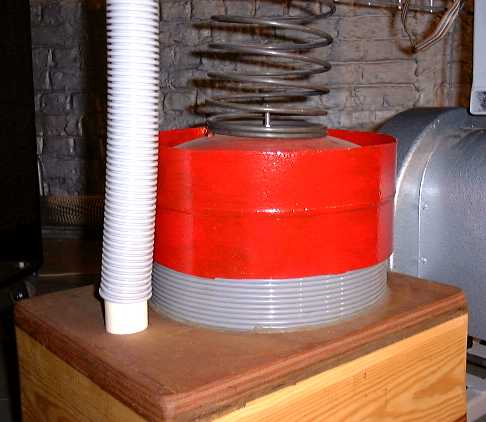 De pijpen rusten rechtstreeks op de ventielen en worden op hun plaats gehouden door een houten pijphouderplank waarin de pijpen op 2/3 van hun voetlengte (205 mm) vastzitten. Voor de afdichting tussen ventiel en pijp gebruikten we, al naar gelang de diameter van de pijpvoet, rubber of bijenwas, zoals gebruikelijk voor de montage van de doorslaande tongen in akkordeons. Zoals we in de <Vox Humanola> module castagnetten toevoegden, zo voorzagen we hier in een klein automatisch trommelspeelwerk. De verwijzing naar de 'Flute et Tabor' kombinatie uit de oude volksmuziek is daarmee kompleet. Zoals in de <Vox Humanola> werden ook hier de perkussiegeluiden gemapt op het midi nootbereik 120 tot 127. (zie midi-implementatietabel)
Een heuse tremulant, waarvoor gebruik gemaakt werd van een zware elektromagneet die op de blaasbalg duwt, werd toegevoegd en afgewerkt in 2003. In datzelfde jaar werd ook de pulsbreedte besturing van de motor, en daarmee dus van de winddruk, afgewerkt. De besturing van de winddruk maakte na deze wijziging gebruik van de midi noten 0 tot 6, terwijl met noot 7 (de diepe G), de elektromagneet in werking kon worden gesteld. Deze toevoeging maakt niet alleen het effekt van een tremulant mogelijk, maar laat eveneens toe noten van echte en kontroleerbare dynamische aksenten te voorzien. Op elk inzet van een noot waarop een sfz aksent gewenst is, moest dan tevens noot 7 worden meegespeeld, maar dan wel met hele korte duur-waarden. Omdat deze aanpak voor komponisten toch iets klungeligs had, onderwierpen we piperola in 2005 aan een grondige herziening of upgrade. Het bestaande mikroprocessorbesturingssysteem werd helemaal opnieuw ontworpen en maakt nu gebruik van twee PIC kontrollers: een voor de noten en eentje voor zowel de windsturing, de tremulant, het turks slagwerk en de enkele lampjes die Piperola bij die gelegenheid eveneens toegevoegd kreeg.
Een overzicht van de nieuwe schakelingen ziet eruit als: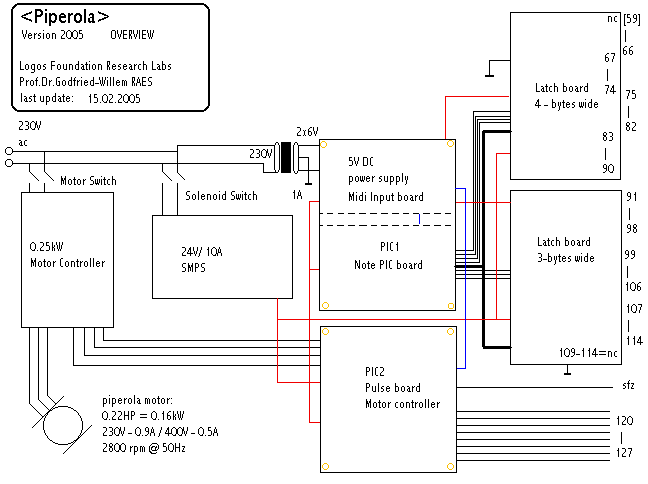 De besturingsschakeling voor de noot-ventielen en de ingangsschakeling voor het midi-gedeelte met bedradingsplan kwam eruit te zien als: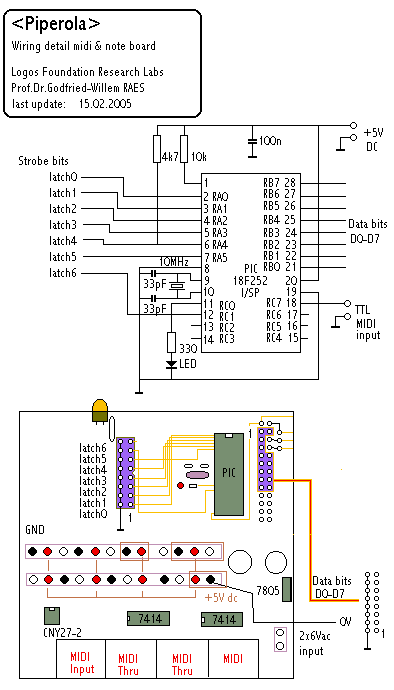 De schakeling waarmee de besturing van de motor-kontroller, het slagwerk, de tremulant en de lampjes werd gerealiseerd kwam er tenslotte uit te zien als: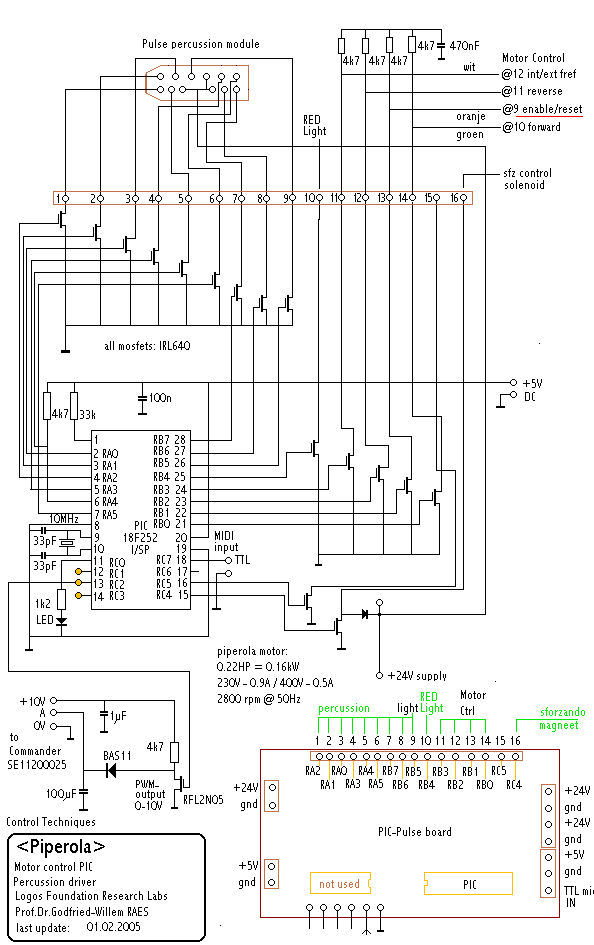 De piperola module wordt in tessituur gekomplementeerd door <Bourdonola>, die het gebied van 36 tot 62 dekt. In deze kombinatie beschikken we over een instrument met volle 6 oktaven tessituur. Een zachter geintoneerd alternatief voor de piperola/bourdonala kombinatie wordt gevormd door <pos> (2018) of door <ror> (2021).
De volledige midi implementatie tabel is onderaan deze pagina te vinden.
Medewerkers aan de konstruktie van deze muzikale automaat:
Design & konstruktie: Dr.Godfried-Willem Raes
assistent: Moniek Darge (requisites, valve silencing)
adviseurs: dr.Jan Kruger(+), Ghislain Potvlieghe
Restauratie van het pijpwerk & stemming: Marc Maes , Ghislain & Dierik Potvlieghe (2007)
PIC-controllers voor de 2005 versie: Johannes Taelman.
Afmetingen & andere technische specifikaties:
hoogte: 1400mm
breedte: 1680mm
diepte: 530mm
gewicht: 120kg
bevrachtingsruimte: 1.3 m3
maximale geluidsdruk: ca. 86dB
elektrische aansluiting: 230V ac - 250Watt
data-poort: midi input
Verzekeringswaarde: 15.000 Euro.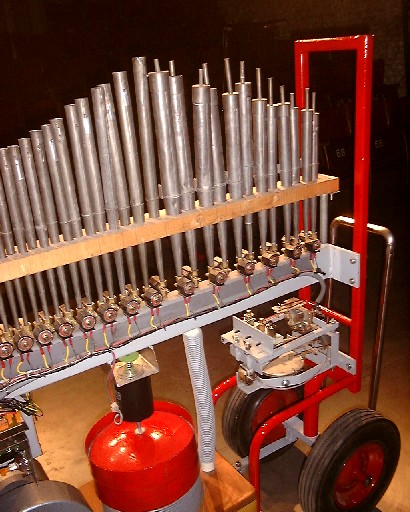 ---
Gedetailleerde dimensionering en bouwdokumentatie van de <Piperola> register module: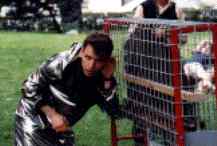 Ter beperking van de bouwhoogte en vooral omwille van de transporteerbaarheid werden voor het laagste oktaaf tinpijpen, (midi noten 60 tot 70) half gedekte pijpen gebruikt. In 2007 soldeerden we deze geheel dicht en werd het gehele pijpwerk grondig gerestaureerd.
maten windladekokerprofiel bxhxd (in mm): 1370 x100 x 50 .
Stalen kokerprofiel, materiaalsterkte 4mm
Luchtinhoud kokerlade: 6 liter
winddruk: 140mm H2O
hartafstanden boorgaten ventielen, diameters van de pijpen
windlade hoog (49 pijpen, 4 oktaven)

pijpdiameter na labium/ boorafstand

pijplengte vanaf labium
Gedekt (van hoog naar laag)

noot 71= 32mm / 33mm
noot 70= 34mm / 35mm
noot 69= 35mm / 38 mm
noot 68= 36mm / 40mm
noot 67= 36mm / 40mm
noot 66= 36mm / 40mm
noot 65= 36mm / 40mm
noot 64= 38mm / 42mm
noot 63= 40mm / 45mm
noot 62= 41mm / 45mm
noot 61= 42mm / 45mm
DO noot 60=43mm / 45mm

noot 71=
noot 70=
noot 69=
noot 68=
noot 67=
noot 66=
noot 65=
noot 64=
noot 63=
noot 62=
noot 61=
DO' noot 60= 280mm

Open (van laag naar hoog)

DO' noot 72= 28mm / 30mm
noot 73= 28mm / 30mm
noot 74= 27mm / 30mm
noot 75= 25mm / 30mm
noot 76= 25mm / 28mm
noot 77= 25mm / 28mm
noot 78= 23mm / 25mm
noot 79= 22.5mm / 25mm
noot 80= 22mm / 25mm
noot 81= 21mm / 25mm
noot 82= 20.5mm / 22mm
noot 83= 19.5mm/ 22mm
DO" noot 84 = 18.5mm / 22mm
noot 85= 18mm / 20mm
noot 86= 17.5mm / 20mm
noot 87= 17mm / 20mm
noot 88= 16.5mm / 20mm
noot 89= 16mm / 20mm
noot 90= 15.5mm / 20mm
noot 91= 15mm / 20mm
noot 92= 14.5 mm / 20mm
noot 93= 14mm / 20mm
noot 94= 13.5mm / 20mm
noot 95= 13mm / 20mm
DO"' noot 96= 13mm / 20mm
noot 97= 12mm / 20mm
noot 98=11mm / 20mm
noot 99= 10.5mm / 20mm
noot 100= 9mm / 20mm
noot 101= 9mm / 20mm
noot 102= 8.5mm /20mm
noot 103= 8.5mm / 20mm
noot 104= 8mm / 20mm
noot 105= 7.5mm / 20mm
noot 106= 7.5mm / 20mm
noot 107= 7.5mm / 20mm
DO"" noot 108= 7.5mm / 40mm

DO' noot 72= 300mm
noot 73= 275mm
noot 74= 255mm
noot 75= 245mm
noot 76= 234mm
noot 77= 221mm
noot 78= 204mm
noot 79= 191mm
noot 80= 183mm
noot 81= 175mm
noot 82= 164mm
noot 83= 152mm
DO" noot 84 = 143mm
noot 85= 133mm
noot 86= 115mm
noot 87= 110mm
noot 88= 102mm
noot 89= 98mm
noot 90= 90mm
noot 91= 85mm
noot 92= 80 mm
noot 93= 75mm
noot 94= 70mm
noot 95= 65mm
DO"' noot 96= 62mm
noot 97= 60mm
noot 98=55mm
noot 99= 50mm
noot 100= 43mm
noot 101= 42mm
noot 102= 40mm
noot 103= 30mm
noot 104= 25mm
noot 105= 25mm
noot 106= 25mm
noot 107= 22mm
DO"" noot 108= 20mm

Oppervlakte doorlaat windlade>615mm2
Diameter windvoorziening windlade>28mm
Maximale werkingsdruk in diverse gangbare eenheden:
druk in Pascal = 1400 Pascal
druk in mm waterkolom = 140 mm waterkolom.
Maximaal luchtverbruik per windlade (bij klusters):
750 liter/ minuut
Buffertijd windlade >= 500ms, buffertijd met balg >= 2"
Gegevens Laukhuff radiale compressor: Ventus-type 95 mm WK @ 2000l/min, 230/400V @ 0.9/0.52A, 2800rpm @ 50Hz (werkt op 60Hz in Piperola)
Balg: diameter 270mm, hoogte max.: 500mm, min.:100mm. De balg is voorzien van een luchtinvoerklep uit UVB-rubber. Inhoudsvariatie: (delta V) 22liter.
Piperola is equiped with a small percussion section, mapped on the midi note range 120 to 127. The mechanism uses solenoids removed from old Revox G36 taperecorders. Each recorder has two 24V/300mA solenoids and a single 24V/100mA solenoid. They are very nicely finished and very reliable.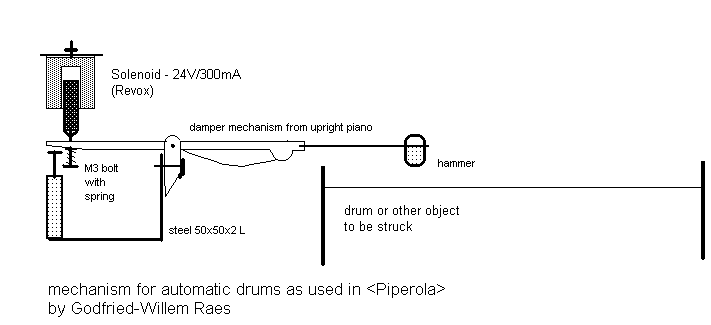 We used parts from old upright pianos to realize the mechanism to strike the percussion instruments. Midi notes 120 and 121 strike a small drum with a strong attack. These should be used in alternation for fast rolls. Midi note 122 strikes the same drum, but at a much softer level (herefore we used the 100mA solenoid) and in the center of the small drum. A rimshot, mapped on midi note 123, was realized using a rotational solenoid driving a long brass rod striking the drumskin parallel to its surface. Slit bells sound when midi note 124 is played, We mounted 6 bells on the moving part of a Lucas Ledex tubular solenoid (same type as used in <Vibi>). Notes 125 and 126 strike very small oxenbells whilst note 127, finally, strikes gently a very high pitched chinese templeblock. As a visual feature, a 24V/5W bulb was mounted above the unit. This lamp is mapped on midi note 119. This percussion section forms a module of its own in the Piperola. It was mounted under the windchest and can easily be removed for maintenance and repair.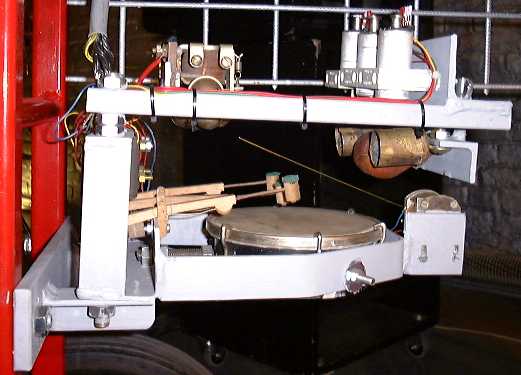 The notes from 36 to 62 can be complemented to piperola by combining the automat with our <Bourdonola> module, thus forming a full 6 octave instrument.
---
Revision in 2005/2007:
Although Piperola performed very well over the years of its existence, in 2005 we improved some aspects of the control and the circuitry. First of all, the need for 3-phase current was eliminated by using a motorcontroller. Thus the wind control was highly improved: the compressor can now operate both under overpressure and underpressure. The midi mapping was changed in accordance and now uses the standard volume controller nr. 7. The normal setting for this controller (2005) must be 100, corresponding to 50Hz motor frequency. If you overdrive, the pitch may rise a bit. Maximum motor frequency was limited to 60Hz (controller value 127). In 2007 we increased the pressure a bit in order to improve the loudness balance between the low and the high notes. So since 2007, after reprogramming the motor controller, the normal (midi) setting for the wind controller has become 85. With this value the motor runs at a frequency of 60.0Hz.
The sforzando mechanism with the solenoid on the bellows also got a better implementation. Now it is possible to use the channel pressure command to either cause an overpressure accent on a note, or an underpressure dip. The selection between the modes of operation can be controlled with midi controller 10. If bit 3 is set, channel pressure will be activated. If bit 0 is set, overpressure mode is active, if bit 1 is set, underpressure mode is active. (bits 0 and 1 are exclusive). If bit 2 is set in controller 10's value, the velo byte with a note in will be used for sfz. accents. The meaning of bits 0 and 1 remaining the same. If bit 4 is set, all other modes are disabled and we can use the solenoid as a tremulant. The frequency can then be controlled using controller 11.
Last but not least, the Pavo controller was disposed of and replaced with two much faster PIC microcontrollers.
---
Complete Midi Implementation table for <Piperola> 2005:
Command
meaning / effect

remarks

(+= implemented)

NOTE OFF (128 +k)
release value disregarded

+

equivalent to note on with velo=0

NOTE ON (144+k)

note range 60-108

velo mapped on sfz if appropriate controller is set

note 109-118= lights

118 = red light
119 = light on percussion unit

note range 120-127: percussion unit (velo implemented)

120= drum
121= drum
122= drum
123= rimshot drum
124= sleigh bells
125= bell 1
126= woodblock
127= bell 2

+
POLY AFTERTOUCH (160_k)
Not implemented
No
CONTROLLERS: 176+k
nr. 7

wind pressure (0-127)

default value 85 for normal operation and tuning

+
nr. 10
value 0 = NO sforzando mode active
+
value 5 = sfz active and pulse values derived from velo-values with note on commands (overpressure mode)
accents will be synchronous with note on's
value 6= sfz active and pulse values derived from velo-values with note on commands (underpressure mode)
accents will be synchronous with note on's
value 9 = sfz active and pulse values derived from channel pressure commands (overpressure mode)
accent applied on reception of channel pressure command
value 10 = sfz active and pulse values derived from channel pressure commands (underpressure mode)
accent applied on reception of channel pressure command
value 16 = tremulant is active. Other modes disabled. Frequency determined by controller 11.
+
nr.11
Tremulant frequency (if ctrl 10 set to 16)
+
nr.65
Motor ON/OFF switch
+
nr.123
All notes OFF
+
nr.127
PIC reset
+
PROGRAM CHANGE 192 + k
Not implemented
No
CHANNEL PRESSURE 208 + k
Controlls sfz magnet, if ctrl 10 is set to value 9 or 10.
+
PITCH BEND 224 + k
Not implemented
No
240 and higher
Not implemented (no SysEx, no real time msg's)
No
---
---
The <Piperola> automat can be heard on the Logos Public Domain CD <Automaton> (LPD007). <Piperola> also is a fixed member of the Logos robot orchestra, and as such can be heard on the Logos Public Domain CD <M&M> as well.
Last update: 2023-10-07 by Godfried-Willem Raes
---
Maintenance and contruction log: <Piperola> Version 2 - 2005-2007
1998: Version 1 finished, using a Pavo controller board for the valves. In this version 3-phase current (400 V) was required to power the motor.
01.01.2005: redesign of driver circuitry. Calculations for motor controller run off a monophase line voltage.
18.01.2005: start design of a new stainless steel chassis for the new electronics.
19.01.2005: Plasma cutting of front panel. Mounting of motor controller and 24V smps power supply on DIN rail.
20.01.2005: Plasmacutting of side panel with two 50mm red LED spotlights. Voltmeter (0-30V dc range) mounted on front panel together with two 6A switches. One for the 24V smps power, one for the motor controller. The 5V will be ON at all times the instrument is connected to power.
21.01.2005: further work on stainless steel chassis. PC-board placvement design.
25.01.2005: previous page with documentation of the piperola circuitry moved to archive.
26.01.2005: Start wiring of the new chassis components.
01.02.2005: Welding and plasma cutting of upperpart of chassis: carrier for note driver boards. Further wiring of circuit assembly.
02.02.2005: components soldered for PWM output for motor controller.
03.02.2005: wiring of new control module finalised. Electric integrity test, without PIC's. PIC specs written out.
04.02.2005: 24V/5W halogen lamp mounted above drum unit.
05.02.2005: New PIC specs written out and mailed to Johannes Taelman. Waiting for reply...
10.02.2005: New electronic assembly mounted in piperola. Motor rewired. Motor controller programmed, according to the table below.
11.02.2005: Wheel design modified and rewelded. Now all wheels can rotate perpendicular to their axis.
12.02.2005: design wheel coupling mechanism.
13.02.2005: new wheelbase and steering mechanism welded and finished. Repainted by Moniek. New pictures added on site. Sizing data updated.
14.02.2005: GMT functions upgraded for the new midi implementation.
15.02.2005: Work session with Johannes. PIC1 coding now o.k. Harware bug in second latch board solved: infant mortality of a IRL640 mosfet. Mapping has a 1 semitone offset. Schematics adapted accordingly.
16.02.2005: PIC2 programmed. Motor control works now. Sfz.magnet support still to be implemented.
17.02.2005: midi input circuit improved. Current limiting R in series with input optocoupler (4N27) must be 120 Ohms instead of 220 Ohms. Collector R in series with output transistor is 1k. PIC1 bug report: note 83 sounds 83 AND 107 together. Notes 104,107 and 108 do nothing at all. Note 106 is o.k. PIC2 bug report: wind controller slider now causes 50Hz motor frequency for midi controller 7 set to value 55. Must rather be 100.
25.02.2005: PIC problems remain persistent. Wind controller PWM looses controll all the time...
01.03.2005: PIC problems with PIC1 solved (note on/off pic) PIC2 remains to be debugged.
02.03.2005: PIC 2 reprogrammed: now tremolo implemented using ctrl11 as well as the features described in the midi implementation table (controller 10). All notes off also operational.
13.03.2005: GeroPipe added to the Gestrobo suite.
17.03.2005: New piperola taken on the road to Leuven.
15.04.2005: Picrada study for Piperola finalized.
02.10.2005: Piperola on the Transit Festival in Leuven.
14.04.2006: Stemkonussen gekocht bij Laukhuff.
15.04.2007: Nazicht voor transport naar Vilnius.
25.04.2007: Piperola voorgesteld in het M&M koncert van Jauna Muzika Festival in Vilnius.
15.07.2007: Motor bevestiging hersteld met inox M8 bouten en windlade opnieuw vastgezet. Enkele bouten waren - wellicht gedurende het transport naar Vilnius- losgeraakt. Ontdekt bij transport naar de Spiegeltent op 14.07.2007. Dierik Potvlieghe gekontakteerd voor herziening pijpwerk.
09.10.2007: Alle pijpen weggenomen voor nazicht, restoratie en intonatie naar Ghislain Potvlieghe.
13.11.2007: Nog eens kontakt opgenomen met Ghislain Potvlieghe i.v.m. de vorderingen van het pijpwerk.
30.11.2007: Plaatsing vernieuwde pijpjes en herintonatie van het register. Laagste oktaaf geintoneerd. Nu moeten de pijpen opnieuw dichtgesoldeerd worden.
01.12.2007: Konstruktie konussen voor de pijpvoeten. Motor controller reprogrammed to allow for a somewhat higher operating pressure.
06.12.2007: Afwerking stem en intonatiewerk met Dierik Potvlieghe. Winddruk is nu 140 mm waterkolom. De motorfrekwentie moet exakt 60.0Hz zijn. De overeenkomstige midi-waarde voor kontroller 7 moet nu 85 zijn.
16.12.2007: Weidmueller konnektor hoge noten moet nagezien en eventueel vervangen worden.
31.08.2008: Some bugs removed in the GMT tescode for Piperola.
10.12.2008: Tuning corrected on some pipes. Note 104 has an electric problem. Note 93 needs a new return spring.
29.12.2008: MOSFET for note 104 appeared to be defective. We found no reason why. Part replaced with IRL640. Still not working. Latch (74HCT547) replaced.... Nothing helped. Finally it came out the female weidmueller connector was defective. We replaced it with a new one and everything works fine again.
30.12.2008: White 24V - 5W halogen light (mapped on note 119) needs replacement.
02.01.2009: Halogen light replaced.
06.04.2010: bug discovered in the PIC coding for the percussion elements in piperola. If many note-on's are sent in the range 120-127, the entire instruments stops responding. This only happens when no note off's are sent.
23.06.2010: Check in preparation for the ancient music concert at Alden Biesen. Solenoid anchor for note 79 cleaned, felt replaced, spring replaced. Note 89: spring replaced. Notes 65 and 91: cleaned out and spring tension slightly enlarged. Note 67 anchor changed with new spring and new felt, but now the pipe gets less wind and plays at a slightly too low pitch. In fact we should replace all the return springs. After all they have been in daily use since 1998...
21.08.2011: Quick run through the tuning. Corrections applied.
20.04.2013: <Piperola> survived the trip to Glasgow very well! We expect her back in Ghent on monday 22nd of april.
22.04.2013: Piperola also survived the return trip perfectly well!
04.09.2013: For some reason Piperola does not want to be driven by differential midi... All other robots connected to ports 0 and 1 in the M&M setup run fine... Close inspection of the midi-input board revealed a 4N27 optocoupler with an input series resistor of 120 Ohms. The pull-up on the output was 1k. We changed the optocoupler for a 8 pin 6N137, much faster. Input series resistor 220 Ohms and pull-up to pin 6 taken 330 Ohm following the spec sheet. Pin 1 cut off (as this chip has 8 pins and the board only has a six pin IC socket soldered in, and pin 8 connected to +5 with a small piece of red stranded wire. Everything works fine now.
06.01.2018: Retuning session. The highest octave is very difficult to do and as temperature in the hall is too low at 18 degrees, we dont do the effort now for those notes.
28.03.2021: <Piperola> check-up and found o.k.
14.09.2023 - 02.10.2023: <Piperola> plays in the Deutsche Oper Berlin for the Zeroth Law production by Gamut inc. It was tuned in Berlin. On return, no flaws observed. <Piperola> is up and working again in Ghent. It can feast its 25th aniversary this year.
Program data motor controller (Digidrive)
| | | | |
| --- | --- | --- | --- |
| PARAMETER Nr. | Functional desciption | <Piperola> setting | remarks or default setting of factory |
| 1 | Minimum motor frequency | 10Hz | 0 |
| 2 | Maximum motor frequency | 75Hz (was 60) | 50Hz |
| 3 | inrush speed | 5s / 100Hz | 5s/100Hz |
| 4 | slowdown curve | 20s / 100Hz | 10s/100Hz |
| 5 | reference for motor speed | A1.A2 | A1.A2 |
| 6 | nominal motor current | 0.9A | 1.5A |
| 7 | nominal motor speed | 2800 rpm | 1500 rpm |
| 8 | nominal motor voltage | 230V | 230V |
| 9 | cos phi | 0.83 | automatically calculated by controller on start up |
| 10 | access to level 2 params. | L2 | L1 |
| 23 | display unit | Fr (frequency) | Fr |
| 30 | decelleration mode | 2 (DC inject) | 1 |
| 31 | stop mode | 2 | 1 |
| 32 | dynamic U/f | off (may be on) | off |
| 37 | switching frequency | 12kHz | 6kHz |
| 39 | nominal motor frequency | 50Hz | 50Hz |
| 40 | motor nr. of poles | Auto | Auto |