Logos foundation
Laboratory for research on experimental musical instruments and interfaces
Basic Stamp projects index
---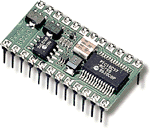 We have put all source code for some of our stamp projects in this directory on our website.
Files with extension BS1 are clearly Stamp 1 related, BS2, stamp 2 related.
Some projects use many stamps and even combine BS1 and BS2's in networked configurations.
Files that can be downloaded are:
Application & context information can be found via our website main page. For some projects full schematics and PC board designs can be download from this page as well. To see the directory listing, click on the Hyper-Index link below.
We have following PC board layouts available:
PCB_BS1stamp.gif : scale 2:1 board accomodating 4 Stamps build with discrete components (16C54 PIC chips and Eeprom) This board was designed as a PWM controller for 4 solenoids as used in out <Flex> robot. The schematic is in the file SCH_BS1stamp.gif.
PCB_stamp_stepper_001.gif: scale 2:1 board accomodating two BS2 stamp modules, each controlled by a a byte port. This is the board used to controll stepping motors in automats and robots such as <Vibi> and <Flex>.
---
First published on the Web September 20th 1996. Last update: February 5, 2003 by Dr.Godfried-Willem Raes