Oorwonde
Oorwonde is een interactieve operatietafel waarbij de bezoeker zichzelf overgeeft aan een auditieve operatie en de soundtrack van een fictieve operatie hoort en voelt. Gebaseerd op de filosofie van Bernhard Leitner dat het luisteren zich naar alle delen van het lichaam uitstrekt en het geluid een diepe zenuw raakt, onderzoekt Oorwonde het concept van het lichamelijke gehoor en de grenzen van het hoorbare.
Oorwonde wil de bezoeker verrassen door het gevoel van geluiden en bewegingen en het inzicht dat deze geluiden en bewegingen kunnen worden beïnvloed door de hoeveelheid druk die op bepaalde punten wordt uitgeoefend.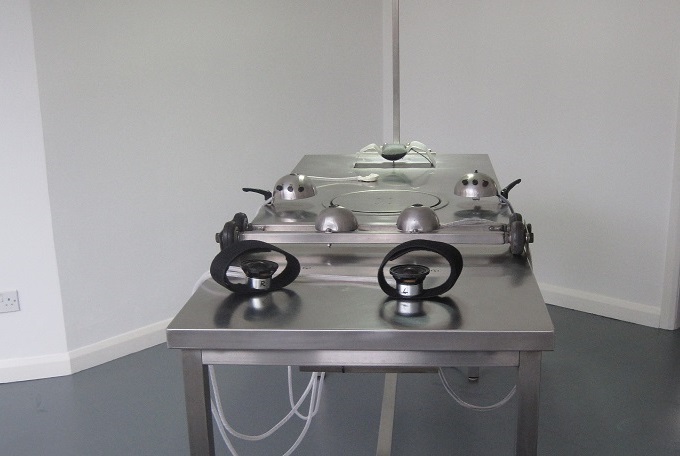 Oorwonde
Oorwonde is an interactive operating table whereby the visitor turns himself over to aural surgery and hears and feels the soundtrack of a fictitious operation. Based on Bernhard Leitner's philosophy that listening is understood to extend to all parts of the body and sound to touch a deep nerve, Oorwonde explores the concept of bodily hearing and the borders of the audible.
Oorwonde wants to take the visitor by surprise via the sensation of sounds and movements and the insight that these sound and movements can be influenced by the amount of pressure executed on specific points.