EDUCATION: Assistant professor at the Hogeschool Gent: Academy of Fine Arts and Music Conservatory departments
ONDERWIJS: Hogeschool Gent
Webpages voor studenten departement Academie:
Cursus Kunstgeschiedenis
Seminarie Buiten-Europese kunst- en muziekgeschiedenis
Webpage voor studenten departement Muziek
Biography
Performer
violin - voice - acting
Soundsculpture, music boxes & "watertransparanten"
| | | | |
| --- | --- | --- | --- |
| News | Muziekdozen | Watertransparanten | Performances |
(click on the pictures to see a complete overview...)
New publication catalogue "Klankenbos", with sound installations by Baudouin Oosterlynck, Pierre Berthet, Moniek Darge and many others edited by Musica
Recent solo performances with Music Boxes:
2013 : Hi Mat [ performance ]
2013 : Ocean Box
2013 : RR (In collaboration with Francoise Vanhecke)
2012 : Muziekdoos
2012 : Other Minds
2012 : Pralinedoos [Nieuwe Muziekdoos Performance]
2012 : SINO
2012 : Water Music Box
2012 : Lichtspel
2012 : Emergency Music Box I, II, III
2012 : Three Sunbeams (In collaboration with the Logos crew)
2011 : Tamil Nadu [ performance ]
2011 : Gallop : (In collaboration with Francoise Vanhecke) [ performance ]
2011 : RobbieBobbie (In collaboration with Floesj)
2011 : Smart Music Box
2011 : Nieuwe Muziekdoos Performance
2010 : A Mouse's Dream (In collaboration with Jean-Pierre De Smet)
2010 : KUTSU-KU
2010: Wierook
2010 : Boontjes
2010 : Websprokkels (ism. De Logos Women)
2009: Brighton, Colour out of Space Festival, Logos Women, FraMon (with Françoise Vanhecke)
2009: Bijloke concert hall, Gent
2009: Museum Dhondt Dhaenens, Deurle
2009: Logos Tetrahedron, Gent
2009: Infusoria Festival Krikri, Brussels
2009: Infusoria Festival Krikri, Gent
2009: Ei huis, Gent
2008: Gent Art Library, Univ. Gent
2008: Intro In Situ, Maastricht, Netherlands
2008: Ei huis, Gent
2008: Logos Tetrahedron, Gent (Wii interfacing music box performance)
2007: Logos Tetrahedron, Gent (school performances)
2007: Logos Tetrahedron, Gent (Gourmet's delight)
2007: Eke, De Groene Vallei: Open Deurdagen Bloemenserre
2007: Festival van Vlaanderen, Mezureput, Zingem
2006: Nijmegen, Internationaal Orgelfestival
2006: Klankenbos, Dommelhof, Neerpelt, Belgium, Music Box Performance met Maja Jantar
2005: Fisher Price Performance
2005: Emergency Music Box Performance
2005: Music Box Perfromance, Logos Tetraeder, Gent, Belgium, voor Leefgemeenschap Klavertje 4
2004: Happy New Ears Festival, Kortrijk, Belgium, with Horst Rickels and Barbara Buchowiec
2004: "Peace Robot" solo performance by Moniek Darge with the peace flag and her newly made Peace Robot
2004: ADVENTURES FESTIVAL, Korzo Theater, Den Haag, Netherlands, "Playing in the Robot Garden" a two days long composer's portret of Moniek Darge
2003: Kamerton Festival, Pescara, Italy, BasiaMo (Logos Women) Performance with Barbara Buchowiec and Moniek Darge
2003: Spain, Catalonia, Barcelona, L.E.M.FESTIVAL, "Music Box Performance" solo performance by Moniek Darge with her "Robot and Music Box Kit" and electric violin, voice, acting
2003: "Emergency Kit for Robots" solo performance by Moniek Darge with her Emergency Robot Kit
2003: Yugoslavia, Servia, Beograd, SKC main hall, FESTIVAL APRIL MEETINGS "Music Box Performance" solo performance by Moniek Darge with her "Robot and Music Box Kit" and electric violin, voice, acting
2002: BRUGGE2002: Gallery ArtoNivo: seven "Music Box Performances" solo performances by Moniek Darge with several of her Music Boxes
2002: Canada, New Foundland, St.John's, LSPU Hall, FESTIVAL SOUNDSYMPOSIUM: "Puffin Box Performance" solo performance with her "Puffin Box"
Compositions
Intermedia performances, soundscape compositions and electroacoustic music:
Scores (manuscripts and withdrawn pieces) available in the Logos Archives:
21st century:
20th century:
Music Theatre & performance (In collaboration with Godfried-Willem Raes
Happenings and events
Publications and essays
In English:
'Auto-Author'
"Intermedia Myth" publication of scores, poems etc. (1986)
Annea Lockwood (Gynaikabook)
Performance Festival Japan
In German
Festival St. Johns, Canada in "Musiktexte"
In het Nederlands: [Dutch]:
Logos-Blad (diverse bijdragen en reisverslagen)
Annea Lockwood (Gynaika boek)
Lijf tegen Lijf (ed.Kritak)
Discography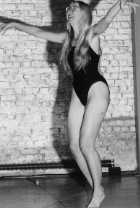 Artistic collaborations
Stefanos Vassiliadis, Anestis Logothetis (+), Alison Knowles, Charlie Morrow, Godfried-Willem Raes, Rui Calapez-Gomes, Carlos Trindade, Michael Juellich, David Moss, Jane Henry, John Zorn, La Donna Smith, Gyde Knebusch, Ann Van Coillie, Annea Lockwood, Anna Homler, Karin De Fleyt, Nicole Ledegen, Francesca Verbauwhede, Benn Deceuninck, Carla Bracke, Joachim Brackx, Paul Darge, Mary Oliver, Mathieu Werchowski, Kristof Lauwers, Helen White, Brent Wetters, Vanessa Defauw, Eva Vandevoorde, Bruno Debusschere, Stefaan Smagghe, Emily De Vlam, Hisako Horikawa, Kris Wuytack, Pieter Derdeyn, Leonaar De Graeve, Thomas Smetryns, Barbara Buchowiec, Jelle Meander, Francoise Van Hecke, Nicoletta Branchini, Marian De Schryver, Maja Jantar, Yvan Vander Sanden, Zam Ebale, Willy Van Buggenhout, Mike Goyvaerts,...
Available MP3 and RealAudio fragments
Published on the web by , Xavier Verhelst