Logos Robotorkest
Dinsdag 17 februari 2015 - 20h00
Logos Tetraeder, Bomastraat 24-26-28, 9000 GENT
Verleiding
Dansers, performers en muzikanten: Dominica Eyckmans, Emilie De Vlam, Xavier Verhelst en Kristof Lauwers, o.l.v. Godfried-Willem Raes.
Rond Valentijn trekken de robots hun stoute schoenen aan en ontspint zich een verleidelijk spel van beweging, muziek en licht. Dominica Eyckmans en Emilie De Vlam gooien lijf en leden in de strijd en werpen de robots hun meest uitdagende blik toe. Het thema verleiding ligt aan de grondslag van heel wat muzikale spinsels. Werken van Monteverdi, Purcell, De Rore en Couperin worden getransponeerd naar de 21ste eeuw en bewerkt voor het robotorkest. Naast deze schatten uit ons verleidend muzikaal verleden staan in deze produktie ook hedendaagse verlokkingen en bekoringen centraal.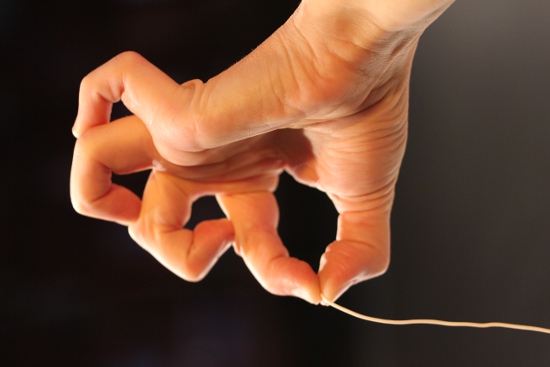 meer informatie over het robotorkest
The Logos Tetrahedron concert hall is at Bomastraat 26-28 in Ghent. Our office entrance in the Kongostraat is closed on the evening of a concert. The box office at Bomastraat opens half an hour before every concert. Tickets: 10.00 € and 6.00 € reduction.
Subscriptions to all concerts at Logos for a full year, starting at the date of payment, can be obtained for 150 Euro. No credit cards.
---
De Logos Tetraeder en de Logos Loods zijn uitsluitend bereikbaar via de ingang gelegen in de
Bomastraat 24-26-28 in Gent
Wie zich voor koncerten op ons kantooradres zou aanbieden zullen we helaas aan die kant van het gebouw niet kunnen binnenlaten. De toegangsprijs is 10€ en 6 € reduktieprijs.
Op elk ogenblik kunt U met groot voordeel een abonnement nemen op alle koncerten bij Stichting Logos, en dat zijn er heus heel wat! Voor een heel jaar -volle 12 maanden dus- betaalt U niet meer dan 150 €.

For all reservations Or call us: +32 09 223 80 89